Believe it or not, many successful and dedicated artists create beautiful art in small studios.
Over the years, I have been inspired by my artist friends who visit my Facebook Fine Art Tips fan page and share their stories. I've loved seeing photos of their studios, and the artwork they create.
I hope you enjoy seeing how some of your fellow artists are creating fabulous art in small studios. These artists don't let any excuses get in their way!
Max Moss
I thought some of the fellow artists on here might appreciate the little mini or small studio I've just finished. Not the room itself, just the goodies. My easel is a "Best" wall hanging easel……I built the table out of a walnut slab I finished and put on top of an old sewing machine base that I bought at an antique shop. I had it sand blasted and powder coated. It's turned out really nice.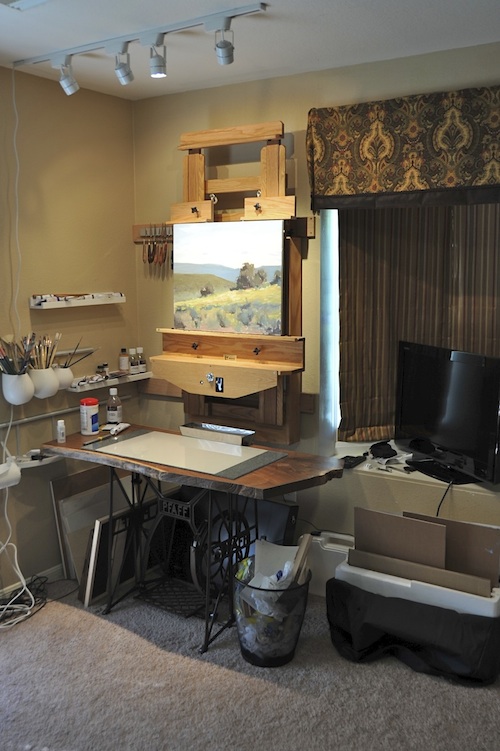 The glass pallet is 32″ long by 16″ wide.  Also, I have my paint on a 4″ by 18″ pallet that I can put in my freezer when I'm not painting (to keep the paint from drying)I got that brush cleaning doohickey I mounted on the back of the table from Wind River. (click to enlarge photos).


All the little wall hanging things are blessings from Ikea (holding the paint brushes). Those Europeans know how to live in tight quarters. 🙂 One other thing I'm really excited to use next week when I'm painting/traveling in Colorado is the Art Cocoon you can see on the floor on the bottom left. What a cool idea those folks had! It's really well made, and only $10 each.
So, I'm all gadgeted up and I need to quit playing studio designer and get to work painting. I just thought yall might enjoy it as much as I love seeing everyone else's setup. ~Max Moss
Ken Newman Sculptures
Working out of a 5th wheel RV has some challenges…space is not always large, but the passion to create out weighs the need for the perfect studio space. RV living as an artist – space is limited but anything is possible. ~Ken
Jorunn Coe
I love my studio space. My studio place is small, but beautiful. It is very feminine in every way. When I look around, I see not just my own art but beautiful vignettes of flowers, dishes, lamps , books , mirrors etc. Yes it is a design studio located down town of our small mountain town, so friends pop in to visit and I can go to the coffee house when I need a brake. I believe that the space doesn't have to be huge, but I believe it should be comfortable, with good lighting and I place to sit down and rest once in awhile. ~Jorunn
I have a tiny place and I've put a little studio in the lounge in the disused space behind the lounge chairs. I don't have a problem with lack of light. I have too much light from the floor to ceiling windows which let in bright sunshine all afternoon behind where I sit. I have to completely close the blinds to cut it out. But I used to have the easel the other way around to paint the view you see below and it was difficult to see the colour of the paint I was using or on the canvas which let to all kinds of problems. Now I'm happy and I paint every day. ~Sea
Samantha Hegeman Villenave
Only finished work on my easel this weekend as I am showing in a beautiful ancientvillage in southern France this weekend. However, the scenery is breathtaking, and I am buzzing with inspiration and cannot wait until I have a little time next week! (: Hope you're having a wonderful weekend Lori and thank you again for letting us share. ~Samantha
Debb Ferris Bates
My "little art studio" is in a small room in my basement. Not much light.My window , I covered in stain glass that I did a few years ago. There is a deck that hangs over this window, and I thought the stained glass window was nicer to see 🙂 ~Deb
Jack Mckenzie
This my "mini art studio' in one corner of the room. The cabinet that the easel is sitting on is an old TV set Most of the magazines in the shelves below are cooking magazines since I like to cook, too. ~Jack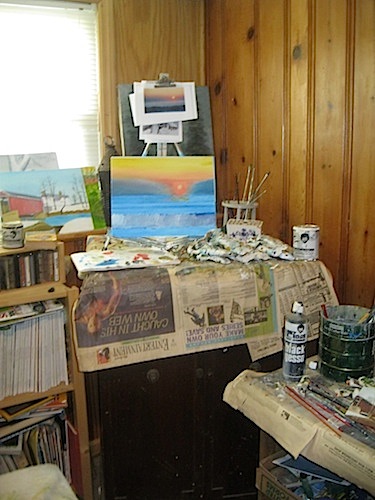 Lori McNee
About 20 years ago, I first started my own art career at the kitchen table. After a few years, I dedicated a corner of our busy living room to my 'studio' among a television, Nintendo, toys, kids and my dogs. Those are fond memories, but now my kids are grown and in college and I have lovely studio all to myself. Even though my studio would not be described as small, the area I concentrate most of my work in IS small. Even though I have taken over a bedroom for my studio, the majority of my painting is done in this corner…
To my left is an adjustable shelf where I set up my still life paintings. When I paint a studio landscape, I use the shelf to hold my laptop so I can project reference photos. My next purchase will be a new and large LCD monitor to help enlarge my images!  In the second picture you can see the way I light my easel. I have tried many types of lighting and lamps that simulate daylight. Finally, I have found a simple, and inexpensive solution that works – a shop light with two 32/t8 fluorescent bulbs from good ole' Home Depot! ~Lori
Hopefully some of you have gained some new ideas for creating your own small studios. Please join us and share, 'what's on your easel' on my fan page! Thanks for stopping by and please share any suggestions you might have…we all learn from each other! ~Lori 🙂
Want to further your painting skills? Please check out these art books I recommend…click here.
You might like some of these articles:
Top 10 Reference Photo Tips for Artists
How to Build a Pochade Box from a Cigar Box
How to Pack for Painting: Tips for the Artists Flying by Plane or Car
New Zealand: Painting and Playing in the 'God Zone'
Bringing the Still Life to Life: A Painting Demo by Master, Jeff Legg
Demystifying Social Media for the Artist
Sketching Peregrine Falcon Birds from Life
I hope you join me on Twitter and Facebook! ~Lori 🙂